The U.S. withdrawal from Afghanistan and the subsequent horrors have dominated the news for the past month. You DID know that the Biden Administration has completely resolved the humanitarian crisis at the Southern Border while the Taliban took over the nation of Afghanistan? Wait: you didn't know that happened? It MUST have happened. Otherwise, the Media would still be full of those horror stories about the conditions, the inequities, and the mass of humanity that daily 24/7 flood our southern border to find a new home in the U.S. Don't forget: Border Patrol and ICE agents are evil for even considering not allowing these needy Central Americans an opportunity to better their own lives and those of their children in this "new" country. They deserve that!
The Biden folks certainly have NOT solved our crisis at the southern border. They just added one more travesty to the "U.S. crisis list:" Afghanistan.
The crisis at our border is not only still pressing onward, it's intensifying and widening. Just as many illegals, if not more, are desperate to find ways to enter the nation. Biden and his media minions want us all to believe that the President has it all under control. They want you to believe there's "no there there."
Nothing could be further from the truth.
Who would be better to give us the REAL facts with no political spin than the active local law enforcement agents AT the border? There are plenty of those in Texas. And there are many of those deputies and their bosses who devised and implemented a plan to protect innocent young Americans.
Let's meet a few.
The "Players"
Kinney County, Texas, Deputy Danny Molinar stopped a vehicle containing three illegal aliens on July 24. The U.S. citizen driver and his vehicle were based out of Dallas. He was charged with smuggling and released—the local jail is full. The three illegal aliens, all from Mexico, were turned over to Border Patrol. Four days later, Molinar stopped a vehicle based out of Austin. In it, he found the same three illegal aliens wearing the same clothing. Another U.S. driver was released pending charges. His arrest warrant and around 126 others will sit on the sheriff's desk until space opens up in his 14-bed jail.
One of the illegal immigrants being smuggled told Molinar that she was going to keep trying "until she got through." Once again, she was handed over to Border Patrol.
With limited to zero consequences, illegal aliens have no reason to give up and go home—they know they'll get through eventually. Most law enforcement officers in the region have similar stories. Officials in Kinney County have long given up on federal help. While the state is providing some assistance, they find it difficult to access and have started looking elsewhere to solve their border security issues. "I think we're on our own here," Kinney County Sheriff Brad Coe said.
The county is considering hiring private security contractors who have worked in Iraq and Afghanistan to address the thousands of illegal aliens on the ranchlands. Coe has started charging illegal aliens with trespassing, evading on foot, and child endangerment. He's also ready to personally drop illegal immigrants off halfway along the international bridge in Del Rio if he finds out they're not being deported.
After hearing how overwhelmed Coe's stable of six full-time deputies are, Galveston Sheriff Henry Trochesset is sent four deputies on Aug. 18 to bolster the team. Galveston Constable Jimmy Fullen hit the ground on Aug. 16 in Kinney County.
County Attorney Brent Smith is pushing for the state to approve the use of Florida deputies from sheriffs who are willing to help. Florida's Brevard County Sheriff Wayne Ivey stated that he's ready to help however he can, including sending a deputy or two if the state approves.
Coe and several other Texas sheriffs and Immigration and Customs Enforcement agents filed a lawsuit against the Biden administration on July 1 for its "unlawful and unconstitutional" requirements regarding the arrest and deportation of illegal aliens. And, along with the city and county of Uvalde, Kinney County has set up a subregional planning commission to help force the relevant state agencies to the table.
About Kinney
The 3,600 residents of Kinney County, Texas, aren't exactly novices to the side effects of border surges, but the current influx is beyond anything many have experienced. Although the county—1,360 square miles—only shares 16 miles of international border with Mexico, it's on a direct smuggling route from the border cities of Del Rio and Eagle Pass to San Antonio and beyond. With its extensive ranchlands, the county has become a thoroughfare for illegal immigrants who don't want to be caught.
In July, almost 10,000 illegal aliens evaded Border Patrol in the Del Rio Sector. It's impossible to estimate the number that went undetected and got away. Border Patrol agents are constantly being pulled off the border and into processing centers as the numbers surge.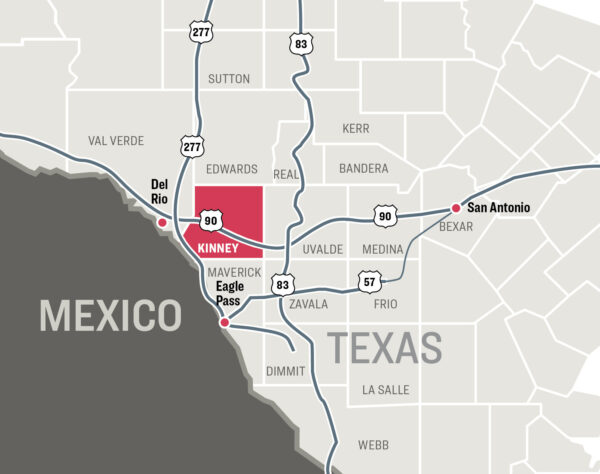 The local Border Patrol highway checkpoint is in neighboring Uvalde, 60 miles beyond the border, and a web of small county roads leads around it.
The extra presence of Texas state troopers surged to the area has recently slowed the vehicle smuggling apprehensions in Kinney from a daily occurrence to several a week. In contrast, more illegal aliens have taken to walking through the ranches.
The sheriff's weekly incident reports are full of calls regarding break-ins, burglaries, and smuggling encounters. On May 25, law enforcement stopped a U.S. citizen driving a vehicle with seven illegal alien Guatemalans on board, including two crammed in the trunk. On July 21, local and state law enforcement stopped a stolen pickup truck out of Houston. The driver and passenger were both illegal aliens from Honduras. On July 30, part-time Kinney County Deputy Mike McCourt stopped a vehicle that contained five illegal aliens, a stolen rifle, and $8,000 in cash.
The sheer volume of foot traffic is evident in the number of dead bodies that the sheriff has recently counted. In the past two and a half months, eight bodies have been found, mostly on ranches. Coe said the average for Kinney County is about one per year. Hunters will likely find more as the season opens this fall and the heat continues to take its toll.
Local rancher, Cole Hill's property is situated on an illegal alien thoroughfare that flanks the Border Patrol checkpoint. He's dealt with illegal aliens traversing his land for years, but only around 25 people a year, and sometimes months would go by with no activity. That changed on Jan. 20 this year, when his dog alerted him to a man on the front porch dressed head-to-toe in camouflage clothing.
"That was just kind of the beginning of this giant snowball that's occurring," Hill said. Encounters with illegal aliens—mostly men in groups—is now an almost daily occurrence, and he's fed up.
"Sure, there's probably some good apples in there as well. But I don't think the good apples are 35 miles off the river trying to evade every law enforcement they can as aggressively as they are," he said.
On July 30, he saw at least three illegal aliens at his ranch worker's house and called Border Patrol and the local sheriff's office. Border Patrol was on scene first, but the illegal aliens had wired the gate shut and escaped on foot before the patrol truck got through. The aliens had broken into the house, stolen food, and destroyed the ignition in Hill's truck while trying to steal it. Hours later, they were apprehended on the ranch across Highway 90, and their footprints were matched to those on Hill's ranch. They're currently detained in the Briscoe Unit in Dilley, pending charges brought by the Texas Department of Safety (DPS), Coe said.
The state has repurposed the Briscoe Unit to detain almost 1,000 illegal aliens waiting for their court cases and serving their sentences.
Coe, a Border Patrol agent for 31 years before becoming sheriff, said he's never seen illegal aliens intentionally destroying property like they have been this year.
"We've always had a fence cut here, a fence cut there because they're hauling dope or small kids or something," he said. "But we've never seen the intentional big four-by-four holes in the fence, or now, a 10-foot section just cut completely out. That's really starting to bother me."
County leaders are nervous about the approaching hunting season, but it's a boon for local businesses, and after a pandemic-riddled year in 2020, they need the income. The county's population is set to double during the hunting season, and it's inevitable that hunters, with their high-powered rifles, will come face-to-face with illegal aliens walking through the ranches. So far, though, the only gunshot injury recorded was when an illegal alien accidentally shot another while they were stealing firearms from a ranch.
Summary
Yep: it's still a violation of federal law to enter the U.S. without permission to do so from the United States. The message is simple: "If you're undocumented, you MUST prove you have the authorization to enter the country." Short of a to-be-immediately filed asylum claim, that person is IN the United States illegally. And a multitude of federal immigration laws contain penalties for doing so.
There is an answer — a way to stop this: enforce the rule of law. And do so impartially. Without enforcement, why even have laws?
Doesn't that sound simple to implement to stop the hundreds of thousands of illegals crossing the border? Is that something we should NOT do?
The correct answer does NOT depend on your political perspective on immigration. Federal laws are ALL crafted by the People's representatives: members of Congress. No one in the nation has the right to thumb a nose at any law, or to pressure anyone to ignore laws. We MUST demand strict adherence to these laws. We have authorities throughout this administration who encourage illegals to ignore immigration laws. Doing so borders on Treason!
The only way to stop illegal immigration is to demand 100% enforcement of ALL federal laws. And every member of the Biden Administration and every member of the U.S. Congress swore an oath to "protect and defend the Constitution of the U.S."
In some cases, it's not a long trip to connect the dots from ignoring illegal crossings to an appropriate charge of treason. That may seem a bit harsh. But so are the actions of many illegals allowed into the U.S. by Biden's Homeland Security team with little or NO knowledge about these who is coming into our nation.
Do you remember the House prosecutors in the first Trump impeachment? Do you remember they each over and over exclaimed loudly when they attacked Donald Trump, "Who's above the law? NO ONE. Especially not the President of the United States."
Americans need to loudly and consistently demand our elected leaders ditch the illegal alien open-doors policy and do the right thing.
Part Two of this story will be published Monday here at TruthNewsNet.org!
To Listen to or download today's (Friday, September 3, 2021) "TNN Live!" Show with Roger Stone, click on this link: