Today we introduce to you Kelleigh Nelson. Below is a bit about her. She has agreed to share some of her writings with the TruthNewsNetwork Family. Today is Part One of a two-part story that dives into corruption in just one part of our government. Part Two will come on Sunday. (Don't forget: our "Saturday Bullet Points" will go live early Saturday) Now, meet Kelleigh Nelson.

About

Kelleigh Nelson
Kelleigh Nelson has been researching the Christian right and their connections to the left, the new age, and cults since 1975. Formerly an executive producer for three different national radio talk show hosts, she was adept at finding and scheduling a variety of wonderful guests for her radio hosts. She has owned her own wholesale commercial bakery since 1990. Previously, Kelleigh was marketing communications and advertising manager for a Fortune 100 company. Born and raised in Chicago, Illinois, she was a Goldwater girl with high school classmate, Hillary Rodham, in Park Ridge, Illinois. Kelleigh is well acquainted with Chicago politics and was working in downtown Chicago during the 1968 Democratic convention riots. Email: Proverbs133@bellsouth.net 
Part One
We have a corrupt judiciary, a corrupt Justice Department, and a corrupt FBI, and as Trump said when he was campaigning for the office of President in 2016, "The system is crooked."  We have an AG whose inaction is the definitive action regarding the outcome of the 2020 election.
Attorney General Bill Barr has stated, "The U.S. Justice Department has uncovered no evidence of widespread voter fraud that could change the outcome of the 2020 election."  I could list thousands of pieces of evidence, but obviously, there hasn't been any semblance of a Department of Justice investigation. Here is the entire response by the Trump Legal Team.
Barr has not stood for truth, for justice, for accountability, and for doing his job as AG; he told us he didn't want to influence the election, but he's obviously doing that now.  Barr's job is to bring justice and prosecute evil-doers, many of whom surround him, not to worry about his influence or the election.
Where are the indictments of the Deep State Criminals?  How long must we wait?
He said he would not prosecute Hillary Clinton, James Comey, and Obama or Biden in the Russia probe. We've waited almost two years for the results of Durham's investigation, and it appears none is forthcoming.  What happened to Anthony Weiner's laptop and what happened to Hunter Biden's laptops?  The AG is supposed to treat the American people as his client, but as the top lawman, he's been a miserable failure.
Bill Barr was recommended to President Trump by Joe diGenova and Victoria Toensing.  DiGenova stated in a recent email that he was proud of it.  Now diGenova is on the Trump Legal Team investigating all the fraud and treason committed in the 2020 election, and our AG says there is none.
Barr is an overweight bagpipe playing Deep State impresario and FBI Director Christopher Wray should have been shown the door long ago, but there's more…
Let's revisit Barr's questionable background.
Barr's Father
William Barr's father is Donald Barr, who was the headmaster at Dalton School in Manhattan which was founded by progressive educator, Helen Parkhurst who took her cues from developmental psychologist Jean Piaget and education reformers such as John Dewey and Horace Mann.  Jeffrey Epstein became a professor at the Dalton School.  Yes, really!
In 1983 President Reagan nominated Donald Barr to be a member of the National Council on Educational Research.
Donald Barr also had a stint in the precursor to the CIA, the Office of Strategic Services (OSS)during WWII.  Prior to that, he described himself as having a Marxist upbringing in terms of his own memoirs and ruminations on education.  He had a footnote on the dialectic and stated that as a child he enjoyed being a Marxist and reading Marx and Engels.
Barr wrote a book entitled, Who Pushed Humpty Dumpty? wherein he claimed to have three very strange radical leftist mentors in his life who migrated toward establishment mainstream status basically infiltrating old right conservatism just as did William F. Buckley and Irving Kristol.  Gordon Myrick, Ralph Lynton, and Carlton Hayes were the mentors and Diana West is researching all three.
Establishment Ties
Back in 1992, the first time Bill Barr was U.S. attorney general, New York Times writer William Safire referred to him as "Coverup-General Barr" because of his role in burying evidence of then-President George H. W. Bush's involvement in "Iraq-gate" and "Iran-Contra."
Barr expressed his support for gun control measures as well as confiscation during the hearings in 1991 for his first time as Attorney General for President George H.W. Bush.  He is widely considered to be the author of  PL 101-647, The Crime Control Act of 1990.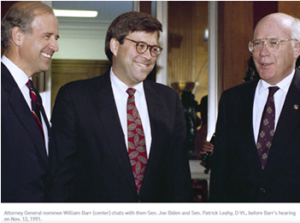 As President Bush's most notorious CIA insider from 1973 to 1977, and as the AG from 1991 to 1993, Barr wreaked havoc, flaunted the rule of law, and proved himself to be one of the CIA/Deep State's greatest and most ruthless champions and protectors.
AG Barr owes virtually his entire career to the Bushes, so where does his allegiance truly lie?  Conservapedia gives us some important facts.
Barr donated $55,000 to establishment candidate Jeb Bush in the 2016 presidential election, but after Trump became the nominee, Barr donated only $2,700. He was on the board of Time Warner, the parent company of CNN, between 2009 and 2018, and he thus supported its merger with AT&T when conservatives and the Trump Administration opposed it.
Sen. Patrick Leahy, who was forced to resign from the Senate Intelligence Committee for leaking information related to the Mena/Contra operation in 1987, was an enthusiastic Barr supporter. Bush DOJ official Stuart Gerson called Barr and Bob Mueller "folks of the establishment."
Prior to his appointment as Attorney General, Barr served as Chief Counsel for the CIA airline Southern Air Transport during Iran Contra. Robert Mueller served as Assistant Attorney General for the Criminal Division during Barr's tenure.
Barr and Robert Mueller are personal friends and actually worked together during Barr's first stint under George H. W. Bush from 1991-1993. Mueller headed the FBI Criminal Division at the time of the Ruby Ridge killings and was infuriated that members of Congress and public officials dared complain about the FBI sniper shooting Vicki Weaver in the head while she held her 10-month-old baby.
In August of 1992 when the Ruby Ridge siege occurred, AG Barr was in charge. After he left office, he spearheaded legal efforts to assure total immunity for Lon Horiuchi, the sniper who killed Vicki Weaver, and any federal sniper who behaved similarly.
In late March of 2020, Bill Barr asked Congress to expand legal authorities to circumvent civil liberties because of Covid-19, which easily happened and gave governors dictatorial totalitarian powers over their citizens which we are still experiencing nine months later.
The CIA
Barr was a full-time CIA operative, recruited by Langley out of high school, starting in 1971. Barr's youth career goal was to head the CIA. See my previous article, AG William Barr, CIA Asset, and Deep State Impresario.
In the final pages of Compromised, Terry Reed writes that in 1992, several years after working with CIA-connected Robert Johnson, he made the "miraculous find" that "Robert Johnson" was also William P. Barr. Reed's CIA contact, William Barr, known at that time by his alias Robert Johnson, told Reed that Attorney General Edwin Meese had appointed Michael Fitzhugh to be US Attorney in Western Arkansas and that he would stonewall any investigation into the Mena, Arkansas drug-related activities. This obstruction of justice by Justice Department officials did occur.
Don't forget Edwin Meese's involvement in the Inslaw/Promis software theft by the federal government.
When George H.W. Bush became CIA Director in 1976, Barr joined the CIA's "legal office" and Bush's inner circle, and worked alongside Bush's longtime CIA enforcers Theodore "Ted" Shackley, Felix Rodriguez, Thomas Clines, and others, several of whom were likely involved with the Bay of Pigs/John F. Kennedy assassination, and numerous Southeast Asian operations, from the Phoenix Program to Golden Triangle narco-trafficking.
The Church Committee was a U.S. Senate select committee in 1975 that investigated abuses by the Central Intelligence Agency, National Security Agency, Federal Bureau of Investigation, and the Internal Revenue Service. Barr stonewalled and destroyed the Committee investigations into CIA abuses.
A memo uncovered in the Central Intelligence Agency's declassified archives shows that during his time at the CIA's Office of Legislative Council, current AG Barr drafted letters calling for the end of the moratorium on destroying records imposed on the Agency ahead of the Church Committee hearings.  We need to keep the docs showing the evil of the CIA, but Barr wants them destroyed.
And President George H. W. Bush was all for the destruction since he had headed the CIA and was likely culpable for many of the CIA's actions.
Summary
Part Two of this story will appear Sunday morning. Additionally, Kelleigh will join just live in the next week or so on our live streaming radio broadcast: "TNN Live." Every day Monday through Friday, "TNN Live" airs right here. It's two hours of interactive conservative talk that includes top news of the day, brings special guests to our audience, and visits live with audience members who join our conversations toll-free at 1-866-37-TRUTH. (1-866-378-7884)
Don't forget Part Two of Deep Stater Bill Barr Sells Out Trump and America Sunday!